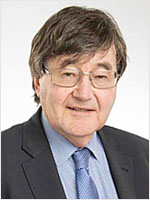 David Roder, Ph.D.
Chair Cancer Epidemiology and Population Health, Beat Cancer Project, University of South Australia, Adelaide, Australia
Specialty: Professor of Cancer Epidemiology
Home Page: ca.linkedin.com/in/david-roder-54699329
Email: roder@internode.on.net
---
Professor David Roder joined The University of South Australia in 2011 as Professor of Cancer Epidemiology within the Sansom Institute for Health Research. His previous role was with the Cancer Council South Australia where he headed the research section. He has been a specialist epidemiology consultant to: the NSW Cancer Institute (since 2004); the former National Breast and Ovarian Cancer Centre (since 2005); and Cancer Australia (since 2007). As well as international consultancies with WHO in Mongolia, Malaysia and Indonesia, and consultant to the Malaysian and New Zealand Governments.
Professor Roder presently Chairs the National Cervical Cancer Safety Monitoring Committee, the Biostatistics Collaboration of Australia Advisory Committee, the Clinical Quality Registry Advisory Committee of the Australian Commission on Safety and Quality in Health Care, the Cross-jurisdictional Steering Committee of the WA Data Linkage System, and has been a member of the National Quality and Management Committee of BreastScreen Australia since 1995.
He has authored approximately 200 peer-reviewed research publications and has been an invited presenter of scientific papers and/or chaired sessions at international scientific meetings in Australia, NZ, the UK, USA, Africa, NZ, Mongolia, Japan and a number of South East Asian countries. His influence in the area of health was recognised in 2000 with the Member of the Order of Australia award for contributions to cancer epidemiology, cancer registration and research.